AC Replacement in Cincinnati & Surrounding Areas
Year-round comfort for your home is critical, and with so many choices on the market today, weighing the options like brand, efficiency, and technology can be overwhelming! Over the last decade or so, air conditioning technology has advanced. Today, all major brands offer central AC equipment that is much more efficient and quieter than anything previously available. This leads to monthly energy savings for your home when you upgrade your cooling system.
Air conditioning systems have a wide range of features and price levels. The real difference that you need to consider when choosing a new AC is quality installation and local support from your air conditioning company. Quality Comfort has the best comfort advisors to help you choose the features you need to make your home comfortable year-round. You don't have to sacrifice comfort for cost, either. We offer multiple financing plans, including 0% options, to help you budget for your desired upgrades. Our EPA certified air conditioning installers have many years of experience and will make sure your new central AC installation is performed properly and cleanly.
We offer the Bryant line of HVAC products, part of the Carrier family of products. When you're in need of a Bryant HVAC installer, call Quality Comfort!
Why trust Quality Comfort Home Services with your new air conditioning install?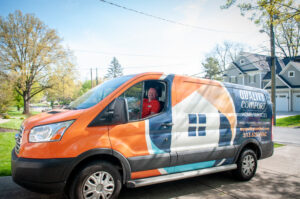 Professional Service
We've built our family-owned business on referrals from satisfied clients and are proud to uphold a commitment to superior installation and service.
We will size your system correctly. We prioritize the proper sizing and insulation of the ductwork your new air conditioning system utilizes. An improperly sized air conditioning system is the number one reason for dissatisfaction with an AC system. If the system is too big, you're spending money on equipment you don't need, and your system will be too loud, and will not control humidity properly. And if it's too small, you won't be comfortable on those hot summer days.
Flexible Scheduling
When your air conditioner isn't cooling and you know a new unit is needed, you need it fast! Quality Comfort can often complete your AC installation the next day. Our air conditioner installation and replacement teams are clean, fast and efficient. Once you approve your estimate with just the click of a button, you can text, call or message us to set up your new installation appointment. If, for whatever reason, there is a wait time before we can complete your install we will provide you with portable air conditioners to keep your home cool until your new air conditioner arrives.
Outstanding Warranties
Besides our flexible scheduling and top-notch service, we also offer a 10-Year Parts and 10-Year Labor Warranty with your air conditioner installation. Not to mention, you also get our 1-Year Test Drive Guarantee. If you are dissatisfied with your installation for any reason within the first year and we can't fix it – we'll refund your money! Read about our other guarantees here.
Free Service Upgrades For Your First Year
Every new AC installation gets a free 1-year Total Care Club membership included in their new air conditioning equipment cost. That means an entire year of free service calls during normal hours, discounted emergency service, free tune ups and a ton of special, members-only, offers on other products we offer.
How Much Does AC Replacement Cost?
The estimate to get your new air conditioner installed is 100% free! We are happy to help you through the decision-making process and provide you with cost options. Once you choose a new installation option, the cost of your new ac unit depends on a multitude of factors including:
the size of the air conditioning unit required to cool your home efficiently
any ductwork that may be needed to complete your installation
the efficiency rating you choose for your home
Air conditioning efficiencies are measured in SEER ratings – this stands for Seasonal Energy Efficiency Ratio. Most air conditioners range in efficiency from 13 all the way to 21. The more efficient the AC is, the less it will cost to operate, meaning lower energy bills each month.
We know that new air conditioning equipment is a major investment. Make it a smart investment. Call the professionals from Quality Comfort. Cooling homes in the Cincinnati area is our business and keeping our customers perfectly comfortable is our focus. We also have financing plans available to fit your budget, including 0% plans for qualified customers. Plus, our new AC cost estimates are always free of charge. So, even if you're just weighing your potential options and not ready for a new AC unit just yet, we can still give you an idea on cost when you're ready for an air conditioner replacement down the road or when irreparable breakdown occurs. Because we have multiple lines of HVAC equipment, that means more options to fit your budget and efficiency needs.
We deliver personal attention to every AC replacement, guiding you through each stage of the process. Our comfort technicians strive to minimize disruption to your home and property, keeping the job site neat and tidy, and going above expectations to fulfill your needs. For a free estimate on new air conditioning equipment installation, book online or call Quality Comfort!
Besides expert central AC replacement and installation we also offer these air conditioning products and services:
When Is It Time to Replace My Air Conditioner?
According to the US Department of Energy, the average lifespan of an air conditioner is 15-20 years. This can be shorter depending on how well the AC is cared for. Doing proper maintenance and changing the filter regularly can prolong its life.
Some factors that can influence replacing vs. repairing your AC include:
Refrigerant
If your AC is still using R22 refrigerant, it's probably time to replace once it stops working. This refrigerant won't be available much longer and is very expensive.
Efficiency
If your unit is less efficient (especially if it's a 10 or 13 SEER), upgrading could save you on your energy usage each month. Always check to see what tax credits may be available on higher efficiency HVAC equipment.
Age
If your air conditioner is at least 10 years old then you know replacing it will bring increased efficiency and lower energy bills due to advancements in AC technology that happen over a decade. If the potential repair is also very costly then it may not be worth it for just a few extra years of life on the current air conditioner.
Quality Comfort will provide you with all of your options for AC repair or the best AC replacement for your needs. We will help you with any questions you may have and continued guidance on how to best care for your AC system in a way that will bring you cost savings and comfort for years to come.
Will I Save Money if I Replace My Furnace and AC at the Same Time?
This is a common question when it comes to HVAC replacement and the answer is simply, yes! Much of the cost savings is in the labor portion of your installation. With our install experts already on-site and working with your system it is easier and less time intensive to do both units at the same time rather than each individually. Also, depending on the efficiency of the unit you choose, it must be paired with an equally matched counterpart to reach the level of efficiency it is capable. This is often the case with variable speed units.