HVAC REPLACEMENT SPECIALISTS
At Quality Comfort Home Services, we are dedicated to providing top-notch HVAC solutions to the residents of Cincinnati and the surrounding areas. With our expertise and commitment to customer satisfaction, we offer comprehensive air conditioner, furnace, heat pump, and mini split installation services.
We understand that your home is your sanctuary, and having a reliable and efficient HVAC system is crucial to maintaining a comfortable environment. Whether you need to replace your old air conditioner, upgrade your furnace, or install a new heat pump, we have got you covered. Our team of skilled installation experts is trained to handle all types of HVAC installations, ensuring that your new system is installed with precision and care.
Warranties
When you choose Quality Comfort Home Services, you can also benefit from our exceptional warranties. We offer a 10-Year Parts and 10-Year Labor Warranty on all furnaces, heat pumps, and air conditioners we install. Some high efficiency units even offer a 12-Year Limited Warranty! Mini splits have up to a 5-Year Parts Warranty and 2-Year Labor Warranty.  This warranty gives you peace of mind, knowing that you are protected against any unexpected repairs or malfunctions. We believe in the quality of our products and the expertise of our technicians, and we want you to have the utmost confidence in your HVAC system.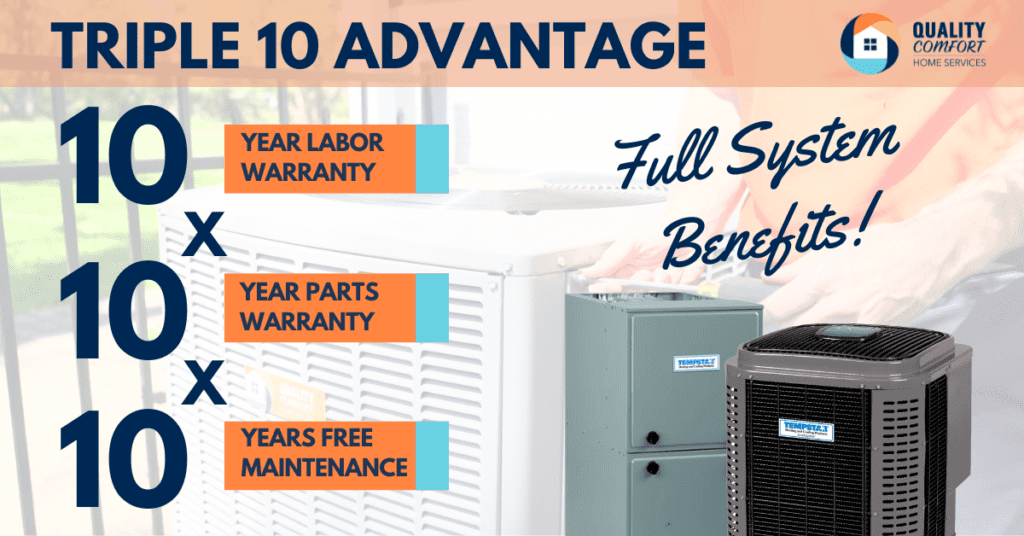 Full System HVAC Replacement Benefits
One other unique program that Quality Comfort offers is our Triple 10 Advantage! When you purchase a full HVAC system (i.e. furnace and air conditioner together) you'll not only get the 10-Year Parts and 10-Year Labor Warranties, but you'll also receive 10 Years of Free Maintenance! This will ensure your warranty is maintained for the life of your system and save you from investing additional funds into seasonal tune ups. Not only will you get 10 years of maintenance free, but you'll also receive all the other benefits that come with our Super Savings Plans for the full 10 years. That includes benefits on plumbing, duct cleaning and more!
1-Year Test Drive Guarantee
What sets us apart from the competition is our unwavering dedication to customer happiness. We believe in our services so much that we offer a unique 1-Year Test Drive Guarantee. This means that if you are not completely satisfied with your installation and we are unable to fix the issue, we will provide you with a full refund. Your comfort and satisfaction are our top priorities, and we stand behind our work.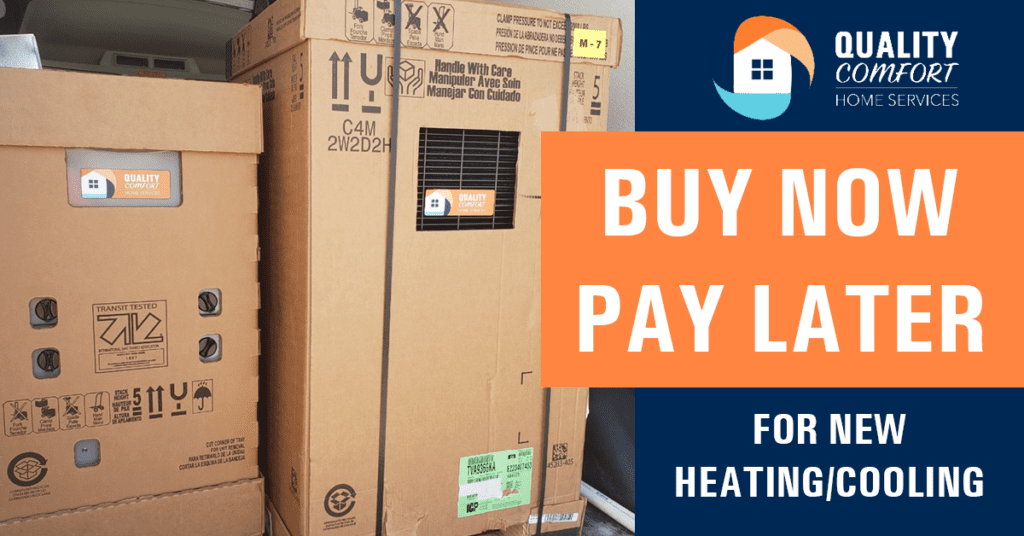 For a limited time you can BUY Now and PAY Later for your new HVAC equipment! This applies whether you're purchasing just a furnace, only an air conditioner or even a full system!
Learn more about our installation services