Air Conditioner Repair in Cincinnati & Surrounding Areas
Being cold is an easy problem to fix, you can just layer on some additional clothing or blankets. However, being hot during those humid Cincinnati summers is a totally different issue! We know when it's warm outside and your AC isn't working, you need a fix and you need it fast.
Even with proper maintenance and the most efficient units, your AC system may need occasional repairs. Our heating and air conditioning service call charge is only $68 Monday-Friday (FREE for Total Care Club Members) and emergency AC repair service is always available on weekends. Our emergency air conditioning service charge is $125 for regular customers and only $68 for TCC members. Read more about membership here. Schedule a time frame that works for you and we will text or call you when we're on the way. This eliminates needing to take off work or sit at home waiting for your service.
Our EPA certified AC repair experts are trained on all major air conditioning brands. So when you're wondering, "who do I call for air conditioning repair near me?" The answer is Quality Comfort! When you choose us, you can rest assured you are choosing a knowledgeable and honest air conditioning company. We were chosen by Expertise.com as one of the best HVAC repair companies in Cincinnati! We're in the business of solving your problems, not selling you something you don't need. We'll get out to your home promptly and typically have you back up and cooling in a single call. We will diagnose your problem and discuss it with you fully, including the cost of all recommended repairs and the reasoning behind those suggestions. If it is determined your best option may be to replace your air conditioner rather than repair it, we also offer free estimates on air conditioner replacements.
Common Central AC Problems
Call or request air conditioner service online today if are experiencing any of the following issues with your central AC unit:
AC system is not turning on
Air conditioner is not cooling or is blowing warm air
Condensation on AC unit or vent
Indoor temperature too hot or too cold
Some rooms are properly conditioned and some are too warm
Indoor coil or refrigerant lines covered with heavy frost or ice, sometimes leading to a leak
Breaker to the outdoor unit tripped more than once
A vibration or odd noise with the air conditioner
Thermostat not working properly
AC fan not running or continuously running
Air conditioner needs recharged
Many of these problems are all caused by a few of the same components of your air conditioner. Some of the most common culprits that we see cause AC breakdown regularly are:
Dirty AC filter
Bad capacitor
Dirty evaporator coil
Dirty outdoor condenser coil
Failed motor
Loose wire connections
Plugged condensate lines
Freon leak (refrigerant) leak/low refrigerant levels
What to Check Before Calling for Service
Before calling for an air conditioning repair service, always check your filter first. If the air filter is dirty, then go ahead and change it out and give it sometime to see if your air conditioner starts cooling again. If it does, then you can avoid a service call! If it does not, then there is another underlying problem besides a dirty air filter. If your air conditioner is frozen, then make sure to turn it off before your service call so that it has time to thaw out and proper diagnostics can be run on the unit. Another item to check before calling for service is your thermostat. Is it set to the proper temperature? Is it on cooling mode as it should be?
Inspecting all of these items will help to ensure you've done all the standard troubleshooting and a service call is needed.
Recharging Your AC
Often there is a refrigerant leak that is the reason your AC is not working. Refilling with refrigerant is always an option, but make sure it is the best option for you! Discuss with your HVAC repair expert the pros and cons of fixing the leak in your heating and air conditioning system and topping off the freon. Most often, there is no way to know for sure how long repairing the leak and recharging the AC system will keep your air conditioner operational.
Why Choose Quality Comfort for Your AC Repair?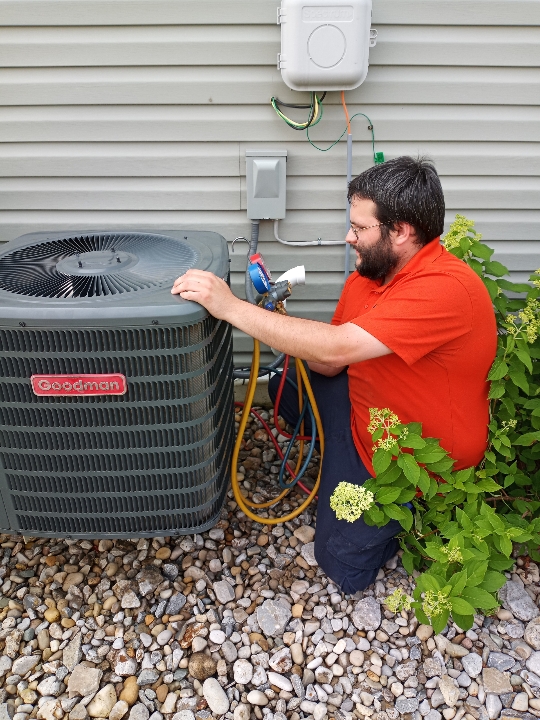 Easy Scheduling
Don't want to talk to a human? No problem! Schedule AC repair service with us through our web chat or by using our online scheduler. But if you decide you want to talk to someone, we have real people you can communicate with from 8am to 8pm 7 days a week by calling our office.
We Fix Your Problem Today
Our vehicles are stocked for heating and air conditioning service. This means we have the part you need ready to go, no waiting to order. This mobile parts inventory includes outdoor fans and fan motors, contactors, capacitors, refrigerant, air handler controls, transformers, indoor blowers, and air filtration products. If your system has proprietary manufacturer's parts we will get you comfortable until the part can be delivered. We do recommend that if you have a frozen AC coil you turn the air conditioner off before we arrive at your home so that we can access the system properly when we arrive.
Same Day Air Conditioning Service
Same day service is often available in most of our service area. We do our best to make our schedule fit your needs, especially during those hot summer days when you need HVAC repair fast!
Lifetime Guarantee
All of our air conditioner repairs come with a lifetime guarantee. If the part we repair or replace fails, we will fix it at no charge to you! Read more about that here.
Financing Available for Repairs
Lots of companies offer financing for new installations, but Quality Comfort knows that repairs are never planned so we also offer financing on repairs of $1000 or more.
Besides convenient AC repair, we also offer these air conditioning services:
If your comfort problems exist mainly on upper levels where your home just can't seem to cool down using your existing air conditioner, it may be time to look into a ductless ac unit.