Your Local Cincinnati Furnace Repair Experts
Some people in the family may like it cold, but when your heat goes out, blankets can only help for so long! When your furnace is not working at all or isn't heating correctly call Quality Comfort Home Services. Only a $68 service call Monday-Friday (FREE if you're a Total Care Club Member) and emergency weekend service available. We are licensed and trained to complete your heating repair whether it be for a gas furnace, heat pump, or ductless heating system. Our service experts are also trained on all major heating brands. We were chosen by Expertise.com as one of the best HVAC & furnace repair services companies in Cincinnati! Our job is to diagnose your issue and discuss it with you completely, including the cost of all recommended repairs and why we recommend them. If it is determined that a furnace repair is unlikely or impossible, then we offer free estimates on furnace replacements.
We will schedule your heating repair and take care of your furnace issue professionally & promptly. Get in touch with us to get your home comfortable again. Beyond furnace repair, we also offer these services:
Common Heating Repair Problems
Quality Comfort provides full-service repair for all makes and models of gas furnaces.
Call or schedule online today if you are experiencing any of the following common furnace issues:
Furnace cannot regulate temperature
Furnace won't heat to temperate on thermostat
No heat coming from vents
Heat exchanger failure
Odd noises from the furnace or furnace making a banging sound
Furnace fan won't stop running
Furnace shutting off
Furnace is blowing cold air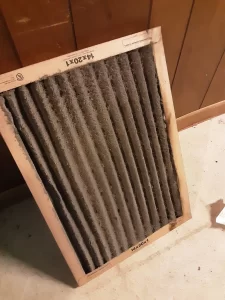 Check Your Furnace Filter Before Calling for Service
Before calling for furnace service, always check your filter first. If the air filter is dirty, then go ahead and change it out and give it sometime to see if your furnace starts heating properly again. If it does, then you can avoid a service call! If it does not, then there is another underlying problem besides a dirty air filter and professional furnace repair from your local HVAC company is needed.
Why Choose Quality Comfort for Your Furnace Repair?
Easy Scheduling
Don't want to talk to a human? No problem! Schedule furnace repair service with us through chat or by using our online booking tool. But if you decide you want to talk to someone, we have real people you can communicate with from 8am to 8pm 7 days a week by calling our office.
We Fix Your Problem Today
We have fully stocked vehicles. This means we have the part you need ready to go, no waiting to order. Our HVAC service experts will have you fixed up and heating again during your appointment. If your system has proprietary manufacturer's parts, we will get you comfortable until the part can be delivered, which is usually the next day.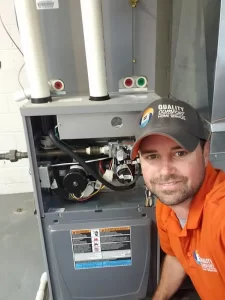 Same Day Furnace Service
We know if your furnace blowing cold air or not heating at all is a big issue, especially in freezing temperatures. Same day service is often available in most of our service area. We do our best to make our schedule fit your needs, especially during those cold winter days when you need HVAC repair fast before things start freezing over!
Solving Not Selling
Our job is to solve the furnace issue you are experiencing, not sell you something you don't need. We will never pressure sell, only recommend multiple solutions to the problems you tell us you're experiencing so that you can choose what is best for you and your family.
Lifetime Guarantee
All of our heating repairs come with a lifetime guarantee. If the part we repair or replace fails, we will fix it at no charge to you! Read more about that here.
Family-Owned and Operated
We aren't some big franchise shop, we're your neighbor! Our owner, Ryan Osterkamp, was born and raised near Cincinnati. He and his wife, Erin, are the core of Quality Comfort. You can be sure money stays here in the local community when you choose us.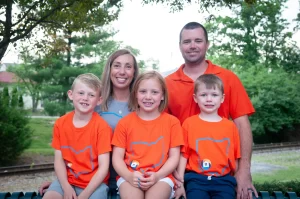 Financing Available for Repairs
Lots of companies offer financing for new installations, but Quality Comfort knows that repairs are never planned so we also offer financing on repairs of $1,000 or more.
If your comfort problems exist mainly on upper stories or in the basement where your home just can't seem to warm up using your existing heating system, it may be time to look into a ductless mini split.