We have the healthy air system to improve your indoor air quality and reduce allergies and illness in your home!
Quality Comfort Home Services provides service and repair to all indoor air quality systems.
We install high-efficiency healthy air systems including Air Purifiers, UV Lights, Media Filters, HEPA Filters, Whole House Humidifiers, and Dehumidifiers.
REME HALO UV LIGHT
The award winning REME HALO® in-duct air purifier is one of the most popular in indoor air quality (IAQ) technology and capable of purifying every cubic inch of air that your central air conditioning system reaches.
Designed to eliminate sick building syndrome risks by reducing odors and air pollutants, the REME HALO® in-duct air purifier is a great solution for whole house and building air purification.
You can see the REME results with tested viruses and bacteria here
Invented to recreate nature's process of purifying the air, it's like bringing fresh outdoor air inside without ever having to open your windows. And it's effective against all three categories of indoor air pollutants: Particulates, Microbial, and Gases.
You can now reduce common allergy triggers from particulates such as pollen, mold spores, dander and dust. Thoroughly tested on airborne and surface bacteria & viruses, such as MRSA, e-coli, and Norwalk, to name a few. Say goodbye to odors from cooking, pets, dirty socks, diaper pails, and musty rooms. We recommend replacing the UV bulb approximately every 2 years for optimal performance.
REME HALO-LED WHOLE HOME AIR PURIFIER
Quality Comfort is also proud to offer the newest clean air product from RGF, the REME HALO-LED Air Purifier.
This new technology turns on and off with the HVAC blower and sets the standard for cleaning the smallest particulates from the air, including viruses, allergens and bacteria. It cleans everything you expect from RGF's amazing technology, but does so more efficiently and is more environmentally friendly.
This REME LED is the first in-duct, whole home air purification system that contains no mercury and is zero ozone compliant. The LED cell module contained in this air purifier lasts 2.5x longer than the current mercury UV lamp technology and only needs replaced approximately every 5 years. It comes with a 7-Year Limited Warranty.
HEPA FILTERS
High Efficiency Particulate Arrestance (HEPA) filters are used in hospitals because they are considered the best and most powerful filters on the market today. They are able to filter the smallest particulates, including that of viruses and various other bacteria like flu.
In order to receive a HEPA filter designation, a filter must collect 99.97% of a specific particulate that measures 0.3 microns in size.
Polluted air is directed through the filter on multiple passes to cleanse the air throughout the home. Working in combination with a pleated pre-filter to capture larger particles, the system is designed to operate at peak performance for up to 2 years before requiring replacement of the HEPA filter.
Our HEPA filters come with a 7-Year Limited Warranty and are 99.97% efficient to filter particles down to 0.01 microns in size.
APRILAIRE MEDIA FILTERS
The Aprilaire Model 3210 Air Purifier is a whole-home air cleaner, offering one-touch Event-Based™ air cleaning. Why suffer from airborne allergens, when you can remove them for good?
 Traps 98% of pollen and mold spores
 Permanently captures at least 97% of bacteria and fungi
Traps 96% of pet dander and respirable dust
Traps over 75% of tobacco smoke and smog
Provides more than 10 times the filtering media used in standard 1 inch furnace filters
Includes Model 8476 Universal Programmable Thermostat with Event-Based™ Air Cleaning, with five air cleaning modes
AIR SCRUBBERS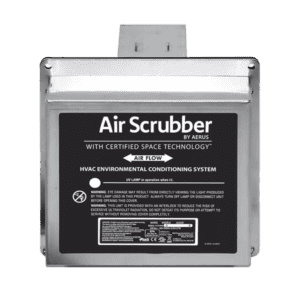 Air scrubbers connect directly to your ductwork and combine high intensity UVAC lighting with a state-of-the-art process that destroys over 99% of airborne and surface contaminants. The major difference between an air purifier and an air scrubber is that air purifiers clean only airborne particles, while air scrubbers actively send oxidizers out into the air to not only remove particles from the air, but the surrounding surfaces as well. The air scrubber by Aerus uses certified space technology called ActivePure that is NASA approved!