The ideal humidity level in your home plays a crucial role in maintaining a comfortable and healthy living environment. Whether you live in Cincinnati, OH, or anywhere else, achieving the right humidity balance is essential for your well-being and the longevity of your home. Let's explore what the best humidity level for a home is and why it matters.
What is Relative Humidity?
When we're talking about home comfort and humidity, we will be measuring relative rather than its counterpart – absolute humidity. Put simply, if you see a relative humidity (RH) reading at 50%, this means that the air is 50% as moist as it could be.
The Goldilocks Zone: What's the Best Humidity Level?
You may be wondering, what's the "just right" humidity level for your home? The answer isn't one-size-fits-all, as it can vary depending on factors such as climate, personal preference, and the specific needs of your household. However, a general guideline to aim for is a relative humidity (RH) level of around 40-60%. Many experts would even narrow that down to 40-50%.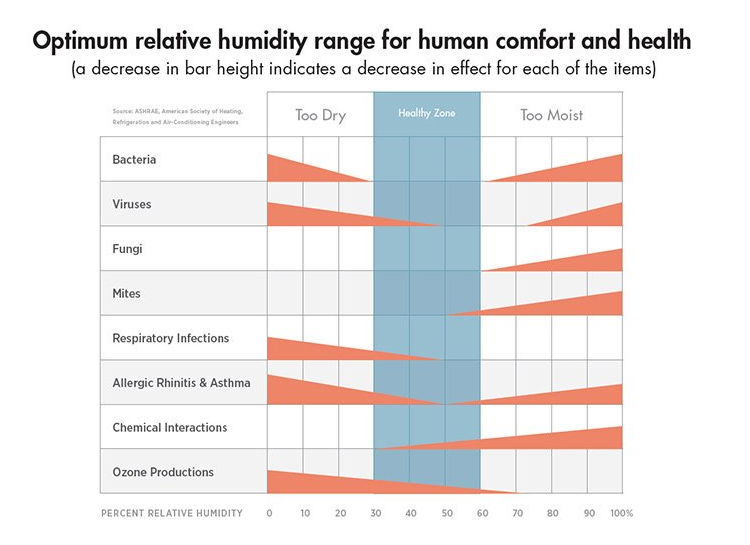 Here's why this range is considered optimal:
Health and Comfort:
Too low humidity can lead to dry skin, irritated respiratory passages, and an increased risk of respiratory infections.
Studies have also shown that having a humidity level below 40% can allow viruses to stay alive in the home much longer.
Too high humidity can create a breeding ground for mold, dust mites, and bacteria, which can exacerbate allergies and respiratory issues.
Energy Efficiency & Savings:
Maintaining the right humidity level can help your home feel more comfortable at a slightly lower temperature, reducing the need for excessive heating or cooling, which can save energy and lower your utility bills.
Home Preservation:
Excessively dry air can cause wood in your home to shrink and crack, leading to structural issues.
High humidity levels can contribute to mold growth and damage to furniture, electronics, and other possessions.