As HVAC contractors, we get flooded with calls in the fall once the temperature drops below 60 degrees. Why? Nobody knows they have a problem until they're turning their furnace on for the first time. We get it. This isn't something anyone thinks of until they start feeling cold. However, this leads to longer wait times for service and unnecessary discomfort during chilly fall nights.
To avoid all of that, we suggest turning on your furnace for the first time in late summer or early Fall so that way we can service faster and you're not uncomfortable while you wait. This makes for much more relaxing Fall days.
How to Turn on Your Furnace
Turning on your heat should be a pretty simple process. First, turn the thermostat to "heating" mode. The process for doing this will vary depending on what type of thermostat you have. Then, check your settings on the thermostat to ensure you have it set to your desired temperature. If the heat should be kicking on and it has not, then go check the furnace power switch to ensure it is turned to "on."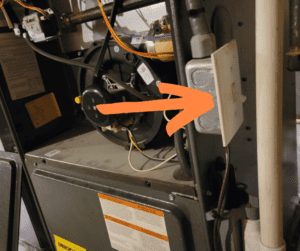 Tips for Turning on Your Furnace for the First Time:
1. Open your windows first
2. Check to make sure your filter is clean before turning it on
3. Check to make sure your thermostat settings are changed from cool to heat
4. Leave the furnace running for at least 5 minutes
5. There may be a burning smell – this is normal and due to dust build-up over the offseason
If the burning smell continues for more than a few hours or your system isn't starting up properly, give us a call at 513-620-4822 or schedule online at myqualitycomfort.com so we can help repair and prevent any further issues while temperatures are still nice and comfortable outside.