You can think of fall furnace maintenance like you think of getting an oil change in your car. Providing your heating system with the proper maintenance and cleaning it needs each year will extend its life expectancy and ensure it operates smoothly and efficiently.
So you know that a furnace tune up is important and you want to schedule an appointment. The next question you may be asking yourself is "what is included in a furnace tune up?" You want to make sure whatever furnace company you choose is checking all of the important components and not missing anything. A professional HVAC company will provide you with a full inspection report after the tune up detailing what they've checked and if there are any areas of concern in your heating system.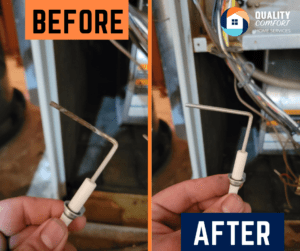 Quality Comfort Home Services' furnace tune up checklist is based on industry standards and includes all of the major and minor components that are pivotal to good furnace performance. We know that even small things like flame sensors can become a big deal later down the road if not inspected during the tune up. It is our goal to prevent as many problems as possible, catch small issues early before they become big issues and maintain peak operation.
You can use this heating maintenance checklist as a guideline for your own HVAC company to ensure they're checking everything that is recommended and going above and beyond for your furnace service.
FURNACE MAINTENANCE CHECKLIST
Check flue system for safety & carbon monoxide leaks

Check CO PPM (anything over 100ppm is dangerous)

Check return & air filter 

Check furnace blower motor

Check blower wheel

Check ECM motor including electrical connections and burners

Check furnace ignitor

Check limit switch

Check thermocouple

Check drain lines

Check pressure switch

Check gas pressure

Clean pilot assembly

Clean and adjust burners

Test for gas leaks

Inspect combustion chamber

Check for combustible materials around furnace

Check flame sensor & clean if needed

Lubricate motors and bearing as necessary

Check all parts for visible wear & tear

Check gas train and all electrical components/connections for safety

Test thermostat operation

Inspect heat exchanger

Check proper burner ignition and efficiency

Ensure proper system start-up

Check humidifier (if applicable)
Is changing the filter included in a furnace tune up
?
Whether or not the furnace filter is swapped out during annual maintenance depends on each individual company. There are some companies that offer maintenance plans that may include bringing your filter with them to the appointment. However, it is becoming increasingly common for companies to rely on filter delivery services to ensure the proper filter gets to their homeowners at the right time. This also eliminates the heating company having to stock numerous filters. Most companies are happy to swap out the filter during your tune up if you have the filter on-hand.