Does your car really need an oil change every 3,000 miles? It's true that you could probably wait and it will continue to drive far past the limits set by your car service company. However, you can imagine that you may have more problems out of it and eventually cause damage to your car that could amount to a hefty repair bill. So, we wouldn't recommend it and most people make sure to keep their oil changes on schedule.
Annual AC Tune-Ups make sure you are operating at peak efficiency (and cost) before turning your air conditioner on.
We recommend you treat your air conditioner maintenance like your car. If you have a nice convertible, it's probably been sitting around all winter not doing much of anything. It's even worse for your AC considering your car is probably in the garage and your air conditioner has been sitting outside in the elements. (By the way, we do not recommend covering your AC during the winter! See our post on that). So, how can you be sure your AC is ready to go once warm weather comes back around? A spring AC tune-up will help make sure everything is in order before you turn it on. If there is an underlying problem from last season, you could notice an increase in your normal electric bills before figuring out there's an issue later. Or, even worse, the air conditioner may not turn on at all on that first hot day of summer.
AC maintenance service costs much less than an AC repair
During our regular multi-point AC inspection, we check tons of things including coolant levels, compressor, condensate drain, and more. Oftentimes something may just need minor adjustments or cleaned out before it's running at 100% efficiency. This is included in the cost of your tune-up. If the unit continues to run with these slight variations, it will eventually cause a breakdown, needing a repair. Our regular HVAC tune-up cost is $79, our air conditioner repair cost is almost always more than that when we account for replacing the damaged parts and the time a repair takes versus standard ac maintenance.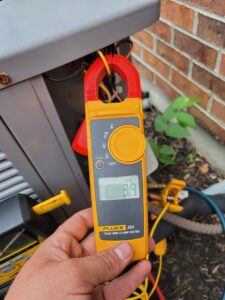 Spring air conditioner tune-ups allow you to maintain your warranty
Most new air conditioners come with a limited warranty from the manufacturer. The majority of these warranties require you to keep your AC maintained by a professional HVAC company, meaning annual maintenance done by a heating and cooling contractor.
If you do not have annual tune-ups, the manufacturer will not provide replacement parts under warranty.
Check to see what your warranty states in regards to the maintenance of your air conditioner.
How to schedule AC maintenance services
If you are a member of our Total Care Club, you get special ac tune-up pricing – $0! It is included in the cost of your membership, along with a 10% discount on repairs, among other benefits.
To schedule your air conditioner tune-up or get more information about our Total Care Club, give us a call at 513-620-4822.