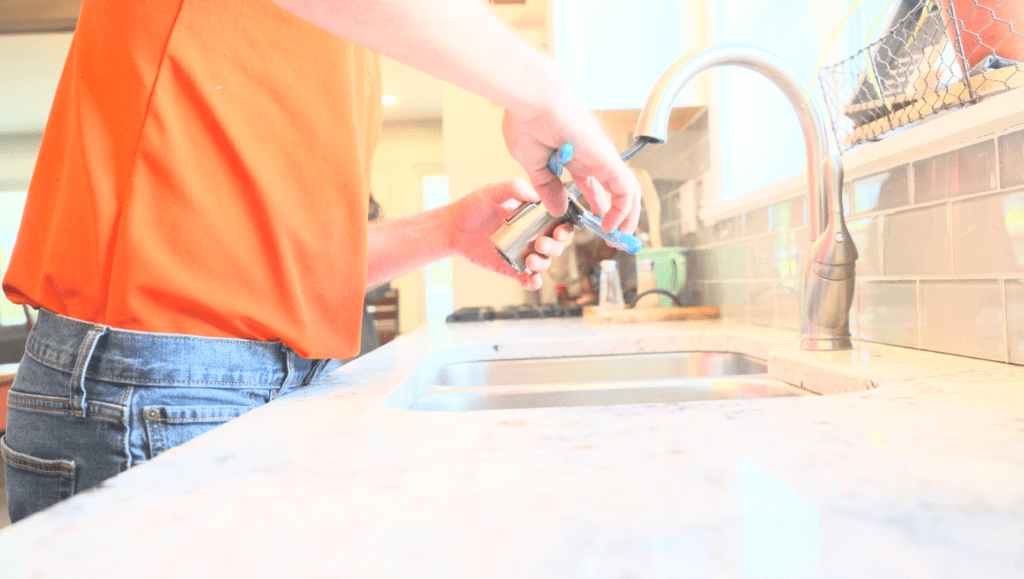 Water dripping incessantly from your faucet is not just an annoyance; it's a telltale sign that something in your plumbing needs attention. Ignoring that persistent drip can lead to wasted water, higher utility bills, and potential damage to your fixtures. In this blog, we'll dive into the six primary reasons why your once-reliable faucet might be causing a watery headache.
6 causes of leaky faucets
Water Pressure
High water pressure can wear down internal components over time, leading to leaks. Additionally, sudden changes in water pressure may cause the faucet to drip intermittently. If you notice the faucet only drips when other fixtures are turned on or when the handle is in a certain position, then it's likely a water pressure issue causing the drip. If this is the case, then you'll need to call a plumber.
Bad Cartridge
Many household faucets are cartridge faucet types. These types of faucets have a single lever for both hot and cold water. You move it up/down to control water flower and left/right to control the temperature.  A cartridge is a plastic piece in the faucet made to control the flow of water within the faucet. If the cartridge is damaged or worn, it can lead to leaks. To remedy the issue, replace the cartridge with a new one. Refer to the manufacturer's instructions for the specific model of the faucet.
Broken Washers
Washers create a seal to prevent water from leaking. Over time, they can deteriorate, causing the faucet to drip. Washers rest against the valve seat so friction causes them to wear out faster than other parts of the faucet. In some instances they may just be incorrectly installed as well. To fix this issue replace the worn-out washers with new ones. Regularly inspect and replace washers as part of routine maintenance.
Broken Seals
Seals play a crucial role in preventing water from escaping around moving parts. There are inlet and outlet seals. If seals are damaged, water can leak. If the seal is causing the faucet to leak you can just replace the damaged seals or gaskets. Ensure that replacement parts are compatible with your specific faucet model.
Valve Seat Issues
The valve seat is where the faucet and spout connect. They often cause a leaking faucet due to water sediment collecting here. If the valve seat is damaged or corroded, water can leak around the spout. To fix this issue resurface or replace the valve seat. Regular cleaning and maintenance can help prevent corrosion.
Bad O-Ring
An O-ring in a faucet is a small, ring-shaped rubber or silicone gasket designed to create a watertight seal between two connected parts. O-rings can be found in different parts of a faucet, such as around the base of the spout or on the stem of a cartridge. Their placement depends on the specific design of the faucet. The term "O-ring" refers to its round, doughnut-like shape. If they are damaged or worn, leaks can occur. Most often if an O-Ring is the cause of the faucet leaking then the drip will occur near the handle. You can replace the O-ring with a new one. Ensure the replacement is of the correct size and material for the specific faucet model.
How to Fix a Leaky Faucet Yourself
Fixing a leaky faucet may seem daunting for someone without plumbing experience, but many common issues can be addressed with basic tools and a step-by-step approach. Here's a general guide to help someone without plumbing experience fix a leaky faucet:
Tools and Materials Needed:
Adjustable wrench
Screwdriver
Plumber's tape
Replacement parts (such as O-rings or washers)
Towels or rags
Bucket or basin
Step-by-Step Guide:
1. Turn Off the Water:
Locate the shut-off valves under the sink or at the main water supply. Turn off the water to the faucet to prevent further leakage.
2. Plug the Drain:
Close the sink drain or use a rag to block it. This prevents small parts from falling down the drain.
3. Identify the Faucet Type:
Determine whether you have a compression, cartridge, ball, or ceramic disc faucet. Different types may have unique repair processes.
4. Remove the Faucet Handle:
Use a screwdriver or Allen wrench to remove the handle, exposing the faucet mechanism.
5. Inspect and Identify the Issue:
Look for visible signs of damage, such as worn-out O-rings, damaged washers, or corroded parts. Identify the specific component causing the leak. During this step you may want to just remove the common leak culprits, the O-rings, washers, and valve seat.
6. Clean Parts and Faucet with White Vinegar:
Cleaning with vinegar removes any sediment buildup on the parts and pieces of the faucet.
7. Replace O-Rings or Washers:
If the issue is with O-rings or washers, carefully remove the damaged parts and replace them with new ones. Ensure the replacement parts are the correct size and type for your faucet model.
8. Tighten Loose Parts:
Check for loose nuts, bolts, or other components. Use an adjustable wrench to tighten any loose parts. Be cautious not to overtighten, as this can cause damage.
9. Apply Plumber's Tape:
If you have threaded connections, apply plumber's tape to the threads before reassembling. This helps create a better seal and prevents leaks.
10. Reassemble the Faucet:
Put the faucet handle back in place, securing it with the appropriate screws or bolts. Ensure everything is aligned correctly.
11. Turn On the Water:
Gradually turn on the water supply and check for leaks. If the leak persists, recheck your steps and make sure all components are properly installed.
12. Observe and Test:
Observe the faucet for a few minutes to ensure there are no more leaks. Test both hot and cold water to verify that the issue has been resolved.
Types of Faucets
Compression Faucets
Compression faucets are the most traditional and simple in design. They have separate hot and cold water handles and a central spout. Inside the handles, there are compression mechanisms that control water flow.
Cartridge Faucets
Cartridge faucets have a single lever for both hot and cold water. They contain a cartridge that moves up and down to regulate water flow and left to right to control temperature.
Ball Faucets
Ball faucets feature a single handle that operates on a rounded ball joint. This ball joint has openings or chambers that control water flow and temperature.
Ceramic Disc Faucets
Ceramic disc faucets are a newer type of faucet and use ceramic discs to control water flow and temperature. They have a single lever for both hot and cold water and are known for durability and longevity.
If all your DIY repairs have failed to fix the dripping faucet give Quality Comfort Home Services a call at 513-620-4822 or schedule faucet repair service online anytime. With no hourly rates and one flat service call fee, we are an affordable way to stop that leaking faucet fast!