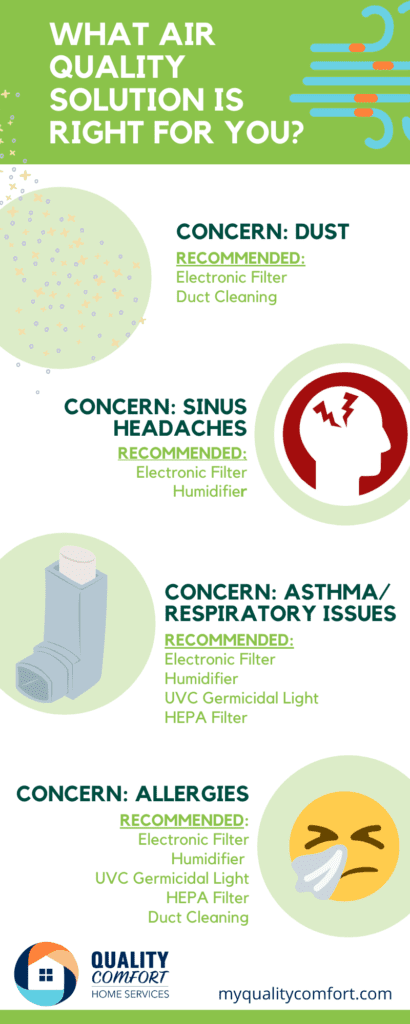 The health of your indoor air is important all year round, but it's often during the spring when seasonal allergies hit that we really begin to pay attention to the quality of the air we're breathing inside our homes. It's not just allergy sufferers that can benefit from healthy air solutions; there are a plethora of other benefits to adding IAQ technology to your home. The most difficult question can be – which solution is right for me?
With numerous different products and services to choose from, it can be hard to figure out which solution will work best for you and your home. We're here to help with that!
Here is a list of major concerns we hear from homeowners that can be relieved by an indoor air quality service or product.
1. DUST
Do you notice dust around the home, and it seems like you just dusted a couple days ago? A dusty home is one of the most common issues that can be addressed with the proper indoor air quality solution.
Here's what we recommend:
Electronic Filter
Duct Cleaning
2. ALLERGIES
Allergies are another very common complaint, especially during the spring and fall. There are numerous products that can help alleviate allergies when you're indoors. Some of these products, like the UV light, specifically target allergens like mold spores, pollen, dust mites, pet dander and more.
Here's what we recommend:
Electronic Filter
Humidifier
UVC Germicidal Light (also known as UV Light) or LED Air purifier
HEPA Filter
Duct Cleaning
3. ASTHMA/RESPIRATORY ISSUES
Do you suffer from a respiratory ailment and notice your breathing is extremely affected by changes in outdoor temperature and humidity? There are IAQ products that can help you too!
Here's what we recommend:
Electronic Filter
Humidifier
UVC Germicidal Light (also known as UV Light) or LED Air purifier
HEPA Filter
4. SINUS HEADACHES
There are many, many potential causes of sinus headaches, but we have found that many customers find some relief with these products:
Electronic Filter
Humidifier
If you are near the Cincinnati, OH area and need a free estimate on an indoor air quality solution, don't hesitate to give Quality Comfort a call at 513.620.4822