The Seamless Furnace Installation Process at Quality Comfort Home Services
A reliable and efficient furnace is the heart of a comfortable home, especially during the cold winter months. At Quality Comfort Home Services, we understand the importance of a smooth furnace installation process to ensure your home remains warm and cozy. In this blog post, we'll take you through the step-by-step journey of how we ensure a hassle-free and high-quality furnace installation experience for our valued customers.
Step 1: Request Your Free Estimate
Your journey towards a new furnace begins by reaching out to us and scheduling a free estimate with one of our experienced Comfort Advisors. During this consultation, our expert will assess your home's heating needs, evaluate the existing setup, and recommend the most suitable furnace options. This initial consultation is a crucial step in understanding your requirements and setting the foundation for a successful installation.
READ MORE: How much does a new furnace cost?
Step 2: Approval and Scheduling
After you've received and approved the estimate, our office staff will promptly get in touch with you to schedule your furnace installation date. We understand that your time is valuable, and we work diligently to accommodate your schedule preferences.
Step 3: Pre-Job Walk Through (If Necessary)
For more complex installations, a pre-job walk through may be scheduled. This separate visit ensures that any unique considerations or challenges are addressed before the installation day, ensuring a smoother process overall.
Step 4: The Installation Day
Part 1 – On the scheduled installation day, you can expect a text notification when our installation team is en route to your home. Our technicians take the utmost care to maintain the cleanliness of your home by wearing shoe covers.
Part 2 – The installation process begins with the removal and disposal of the existing furnace. Once we remove the existing furnace, we will the existing space in preparation for the new unit. We will also clean the entry points to the ductwork. This does not replace a full duct cleaning but does help ensure the new system will not have any debris blocking the supply and return airflow. We will also check the evaporator coil in the air conditioner to ensure it is in proper condition and will not cause any operating issues with the furnace.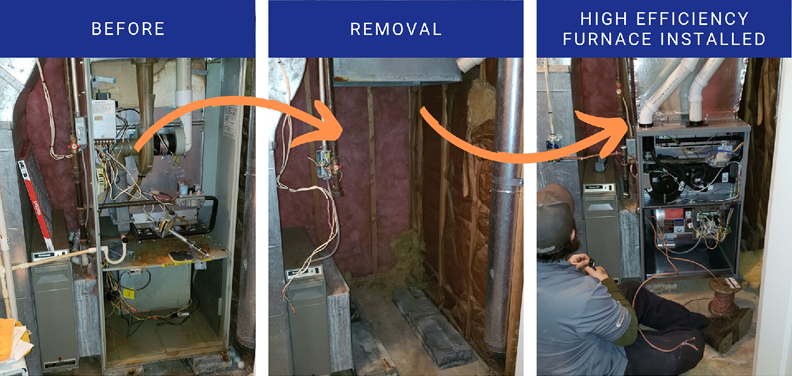 Step 5: Expert Installation
Our highly skilled installation team meticulously replaces the old furnace with the new unit. They take their time to ensure the new furnace is correctly positioned and connected. Throughout the process, homeowners are encouraged to ask questions and seek clarifications, promoting transparency and peace of mind.
Step 6: Thorough Testing and Checklist Review
Once the new furnace is in place, our installation team conducts a comprehensive checklist review. This checklist includes essential tasks such as verifying gas line connections, inspecting the condensate line, testing gas pressures, flue pipe conditions and terminations, blower speeds and sealing air leaks. This meticulous testing process ensures that the furnace operates flawlessly.
Step 7: Clean-Up and Customer Guidance
After thorough testing, our team cleans up the installation area, leaving your home as tidy as when they arrived. We also take the time to guide you on the operation of any new thermostat if applicable. Our priority is ensuring that you're comfortable with your new furnace and its controls.
Step 8: Post-Installation Inspection
Around a week after the installation, a Quality Comfort manager, often the same Comfort Advisor you worked with during the estimate will visit your home for a post-installation inspection. This step ensures your satisfaction, addresses any lingering questions, and ensures that no additional touch-ups are required.
After the Installation
Depending upon the type of system you purchased, you will have at least 1 free year of our Super Savings Plan, which includes maintenance on your furnace and air conditioner. We will contact you to schedule your furnace maintenance service each year that you are eligible under the Super Savings Plan membership.
Besides standard maintenance it is also important to remember to change your filter regularly.
Conclusion
At Quality Comfort Home Services, we take immense pride in delivering a seamless and comprehensive furnace installation process. From the initial free estimate to the post-installation inspection, our dedicated team is committed to ensuring your comfort, satisfaction, and peace of mind. With our expertise, attention to detail, and customer-focused approach, you can trust us to provide you with a reliable and efficient heating solution for your home.