This time of year when the flu and other illnesses seem to always go around, we know the important question you're asking yourself:
WHAT CAN YOU DO TO KEEP YOUR HOME HEALTHY?
Maintaining a happy, healthy home is always our top priority when working with our customers. Rest assured, our employees always utilize best practices when visiting homes. Providing you with the most up to date information is important to ensure your home environment is clean and comfortable. Here we will provide factual information on air purification systems, specifically how they can help minimize the spread of illness, including viruses and bacteria, year-round. This information can help you make the right decisions in keeping your loved ones safe.
HOW AIR PURIFIERS PROTECT HEALTH
The ultraviolet light C germicidal unit is the strongest type of air purifier, working inside your ventilation to expose microbes from your air to low grade ultraviolet light before it is recirculated back into your home. This technology is used worldwide in hospitals and other medical facilities to help keep the air clean and stop the spread of germs. We often recommend these UV lights for the general public but specifically for those with respiratory conditions or allergies. Ultraviolet light C has been proven to kill viruses and bacteria including H1N1, a common strain of flu virus and also MRSA bacteria, among others. It also helps in removing odor causing particulates from the air – think cooking, pet, musty or smoke smells. Though more research is always being done, it would seem this is the best line of home defense based on studies done from past communicable illnesses. Check out these test results from RGF Environmental Group on different illnesses and the UV light success rates.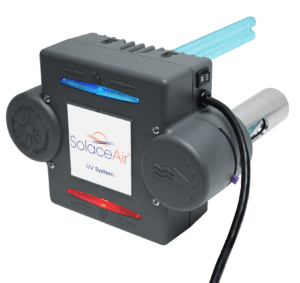 UPDATE: Since this post was written, RGF has released a new technology, building upon the original UV light. This air purifier is controlled using LED light. The REME HALO LED is certified zero-ozone and is mercury free. The LED bulb also lasts up to twice as long as it's ultraviolet counterpart. You can learn more about the new LED air purifier from RGF by visiting their website.
THE ADDITIONAL ROLE OF HUMIDIFIERS IN ILLNESS PROTECTION
Keeping humidity levels in your home between 40-60% makes viruses and bacteria, especially the flu, much less likely to thrive. According to a study done by the CDC, higher humidity levels rendered flu particles inactive 15 minutes after they were released into the air. Not only does a whole home humidifier keep your air safer, but it also helps prevent static electricity, keeps paint from cracking, diminishes the occurrence of nose bleeds and can also help with dry skin.
PROTECTION NOT PREVENTION
Air purifiers, humidifiers and other indoor air quality solutions can help to curb the spread of illnesses inside your home. However, nothing can take the place of good hygiene and maintaining a safe distance from those who may be ill. Quality Comfort Home Services always recommends following CDC and other health organization guidelines for any information on illness protection and prevention.
CINCINNATI AIR QUALITY
We offer free estimates on Indoor Air Quality. If you want to find out the cost to improve your home's comfort with IAQ, just give us a call at 513-620-4822.
You can read more about some of our dehumidifiers on our healthy air service page.