When it comes to keeping our homes cool and comfortable during the sweltering summer months, air conditioners play a vital role. Behind the scenes, AC refrigerants work tirelessly to absorb and release heat, making it possible for us to enjoy pleasant indoor temperatures. However, not all refrigerants are created equal. Let's delve into the world of AC refrigerants and go over the difference between R22 and the newer R410A refrigerant so you can have the knowledge you need to make an informed decision about your air conditioning system.
Understanding How Refrigerant Works:
Refrigerant is the lifeblood of an air conditioning system. It is responsible for transferring heat from inside the house to the outside, creating a cooling effect. The refrigerant undergoes a continuous cycle of evaporation and condensation, absorbing heat from the indoor air and releasing it outdoors. This process allows the air conditioner to maintain a comfortable temperature within your home.
R22 Refrigerant:
R22, commonly known as Freon, has been a popular refrigerant used in air conditioning systems for many years. However, due to its negative impact on the environment, it has been phased out in most countries. R22 contains hydrochlorofluorocarbons (HCFCs), which are known to deplete the ozone layer when released into the atmosphere.
The Newer Alternative – R410A Refrigerant:
To address the environmental concerns associated with R22, a new refrigerant called R410A was developed. R410A is an eco-friendly hydrofluorocarbon (HFC) refrigerant that does not contribute to ozone depletion. It has become the standard refrigerant for residential air conditioning systems.
Key Differences Between AC Refrigerant R22 and R410A:
Ozone Depletion Potential:
R22 has a high ozone depletion potential (ODP), meaning it contributes to the depletion of the Earth's protective ozone layer. In contrast, R410A has an ODP of zero, making it environmentally friendly and compliant with current regulations.
Global Warming Potential:
R22 also has a high global warming potential (GWP), meaning it has a significant impact on climate change when released into the atmosphere. R410A, on the other hand, has a much lower GWP, reducing its environmental impact.
System Compatibility:
Switching from R22 to R410A requires system modifications, as the two refrigerants have different operating pressures. Therefore, it's important to consult a professional HVAC technician to ensure a seamless transition.
Energy Efficiency:
R410A performs better than R22 in terms of energy efficiency. Air conditioning systems using R410A refrigerant can provide improved cooling performance and lower energy consumption, resulting in potential cost savings over time.
Cost:
R22 is much more costly than R-410A. Read more about cost of freon for ACs.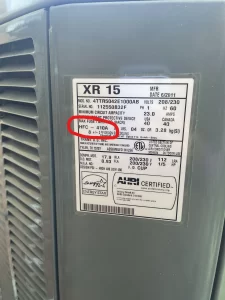 Which Refrigerant Does My AC Use?
To figure out which type of refrigerant your air conditioner uses you can look at the label on the unit outside.
Is R-410A refrigerant being phased out?
Ultimately R-401A will eventually be phased out for an even more environmentally friendly and efficient solution. Most likely this will be R32.  However, there is no definitive timeline for this to occur. As of right now, R-410A is the most widely used refrigerant for air conditioners. We estimate that its replacement won't happen for many years and will follow a similar timeline to the R22 phaseout.